WORKSHOPS AND EVENTS IN 2018
Major workshop opportunity this year – a week-long workshop at the Geelong Fibre Forum in Victoria, Australia.
I will be teaching my workshop Creative Coiling for Colour and Form at the Geelong Fibre Forum.
For enrolment and information, go to the official website here:
http://www.taftainc.com.au/
My workshop section is shown on the TAFTA Inc. website here:
http://www.taftainc.com.au/fiona-hammond—creative.html
Dates:        September 30 to October 6, 2018.
Venue:      Geelong Grammar School, Corio, Victoria.
Workshop description:
Through practical experience of several coiling techniques, find your creative voice with cord, fibre and raffia.  In this workshop you will experiment with figure-8 coiling, regular coiling and coiling with buttonhole stitch to create one or more pieces—from bowls, baskets and platters to sculptural forms, jewellery and wall-hung artworks.
Explore techniques to add voids and distort shapes in your creations. Incorporate items such as natural materials, beads, art yarns, fabric, buttons or other treasures into your work if desired. Use of colour is made possible by working with various colourful wrapping materials—particularly tapestry wool, other yarns and coloured raffia. Participants can use as much or as little colour as they desire.
By trying out a variety of wrapping and core materials, participants will have the opportunity to choose which methods and materials best suit their aesthetic preferences.
Techniques covered in the workshop:
Methods and benefits of using a variety of core materials for coiling—raffia, cotton-covered cord, foam-covered wire
How to start and finish the coil
How to join in new wrapping materials (yarns, raffia, etc.)
How to vary the diameter of the core materials if desired
Incorporating beads or other adornments in the coiling: at the start, end or during the coiling process
Figure-8 coiling technique
Regular coiling technique
Using buttonhole stitch when coiling
Creating voids within the coiled forms
Creating distortions in the coiled forms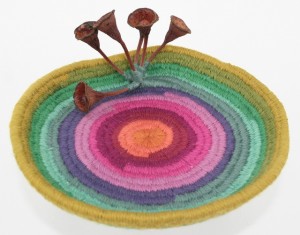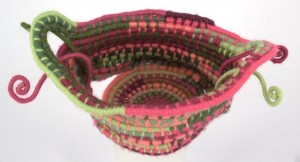 Other workshops and classes TBC.
Several small classes to be held at my Braidwood shop (The Creative Edge – Gifts and Crafts) will shortly be announced, and will generally be held on Mondays, with approximately one class per month being scheduled initially.
Classes at my shop are for between 3 and 5 participants only, so you get plenty of help from me when needed. You can also contact me to enquire about setting a date for you and several friends to have a class scheduled specifically for you at a time that suits us all. Contact me by email: