Six-Part Harmony – wall quilt 2012.
I initially created this wall quilt for my joint exhibition Textile Trio at The Q Exhibition Space in Queanbeyan in April/May 2012. I shared this exhibition with my two friends Wilma Cawley and Sandra Fisher.
This contemporary wall quilt was awarded second prize in the Professional Small or Wall Quilt category at the 2012 Quilters Guild of NSW exhibition in June 2012. I also received third prize in the Art Quilt category, plus the Batik Fabric Award at the 2012 Canberra Quilters exhibition in August 2012. In February 2013 it was awarded first prize plus the champion ribbon in the professional category at the Royal Canberra Show.
"Velvet Slivers" is the first quilt I created using my Curvaceous Squares Technique. Cotton fabrics with "slivers" of velvet.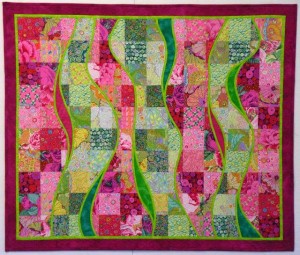 "Raspberry Lime Splice" is another example of my Curvaceous Squares Technique. Featured as a magazine project in January 2009 – in Down Under Quilts.
"Food Colouring" was made using a collage technique, and many fabrics featuring fruit and vegetables. It measures 1 m x 1 m. Private collection, NSW.
"Reflections on Connections" is an original quilt design, begun in a design workshop with Jenny Bowker. Private collection, Canberra.
"Material Midden" was begun in a workshop with Cheryl Comfort.
"Meditation Upon Hidden Mysteries of Ancient Times" was the first quilt that I designed myself. My first step away from traditional quilting styles…
"Swirls and Ripples" wall hanging quilt, featuring hand-painted sections of fabric within free-motion machine quilting patterns, plus small amounts of embroidery.
"Silk Shards" wall hanging quilt, featuring hand-painted background fabric and appliqued silk 'paper' pieces.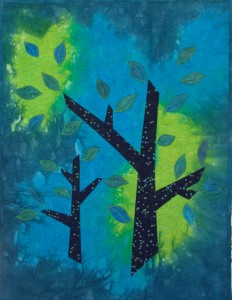 "Silk Shards: Tree and Leaf" – wall hanging quilt.
"Ikebana" wall-hanging quilt.
Examples from my Collage-a-riffic series, all featuring interesting themed fabrics arranged to create pleasing shapes.
"Circularity" 2015 – small wall hanging (35cm x 35cm), featuring wool felt shapes stitched to silk background fabric; hand-stitched quilting lines in variegated cotton thread.
"Concentric?" 2015 – wall hanging quilt featuring Bali batik fabrics in some of my favourite colours.
"Floating Landscape" 2016 – wide wall hanging quilt.